Home
Bobby Noble
"For soulful performance…"
Singer/Songwriter
Guitarist, Live Entertainer
Discography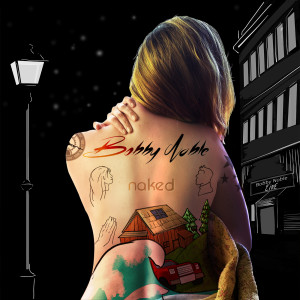 naked
Bobby's debut album features soulful and honest singing, immaculate instrumental arrangements, and top level production. naked invites listeners on a journey through real stories.
Each song relates a specific story from Bobby's past such as betrayal, desire, danger, and eventually the wonder of a young girl dancing through an empty hallway.
"Enjoy the Flood" (track 1) kicks off with the realization that every day will always be just a bit too much to handle, and recognizes the inherent beauty of life's overwhelming journey through killer saxophone hooks and guitar solos. Now move into the slow but desperate physical longing of "Keeping Me Waiting" (track 2) immediately followed by Bobby's voice remorsefully recalling her words to mistaken advances in "Pump the Brakes" (track 3). As you explore these stories, you come upon Bobby's most striking tale yet, "The Rush" to grow up employs aggressive beat-boxing and colorful hooks (track 7). Finally Day Dreams (track 9) peers into the wonder of a little girl dancing alone to her magical visions from within.

You're invited to walk with Bobby as he recounts real moments from his life that have led to the making of this album.
What people are saying about naked:
"Bobby has such a wonderful way with words. Even reading the CD Description online made me feel emotions. Some tracks were super sensual, while others made my heart so happy. I have no doubt in my mind that naked will be super successful. This album is more than great. It is true, it is genuine, it is heart felt, it is Bobby, and it is perfect. I love that he used his most vulnerable time to create something so good.
Oh, and Day Dreams (track 9)… That one speaks volumes to me, but in a different way. I think I am that older mom who's dedicated her life to putting others first. I often feel like I am living in the "broken day dream". I really feel this music."
-Izzy Wise
"About naked…Solid, solid album from first note to last. Excellent arrangements, heartfelt lyrics, and memorable vocal performances across musical genres. It's slotted in the Pop category, but there's strong rhythm and blues/soul throughout. There's not a bad track on this album. Can't wait for the next offering."
-Ron Kolb
"Bobby and I met in March 2015 on the Carnival Sensation! A friend of mine was on the cruise the week before me and suggested that I check out one of the performers on board. My friend Laurel and I heard Bobby singing as we walked through the ship on the very first night and knew immediately that had to be the guy we were looking for! He had such an amazing voice. So, after I awkwardly interrupted his show to ask if he was Bobby and we took a selfie on stage, Laurel and I sat and watched the rest of his show. He was great! He engaged the crowd, he took requests, he could cover almost any song and find a way to somehow make it his own.

After the show we all ended up hanging out for a bit and started getting to know one another. We kept in touch the rest of the week and caught each other when we could. Bobby literally made this cruise what it was. I had such a great time that I went back on the same cruise a few months later with my mom so she could meet the wonderful Bobby Sometimes in the Lobby! She loved his music just as much as Laurel and I did. Once she met him, she loved his genuine personality!

Bobby truly is a wonderful artist. He is talented in a variety of genres with a beautifully melodic voice. He captivates his audience and keeps them entertained and involved. I really do hope to see his career take off. If anyone deserves it, Bobby does. Thank you for being such a wonderful friend and bringing such joyful music to my life! Laurel and I decided to go on the first cruise at the spur of the moment and it was by far one of the best decisions of my life! Thank you for being you, Bobby!"
-Kaitlin Ellenburg
Events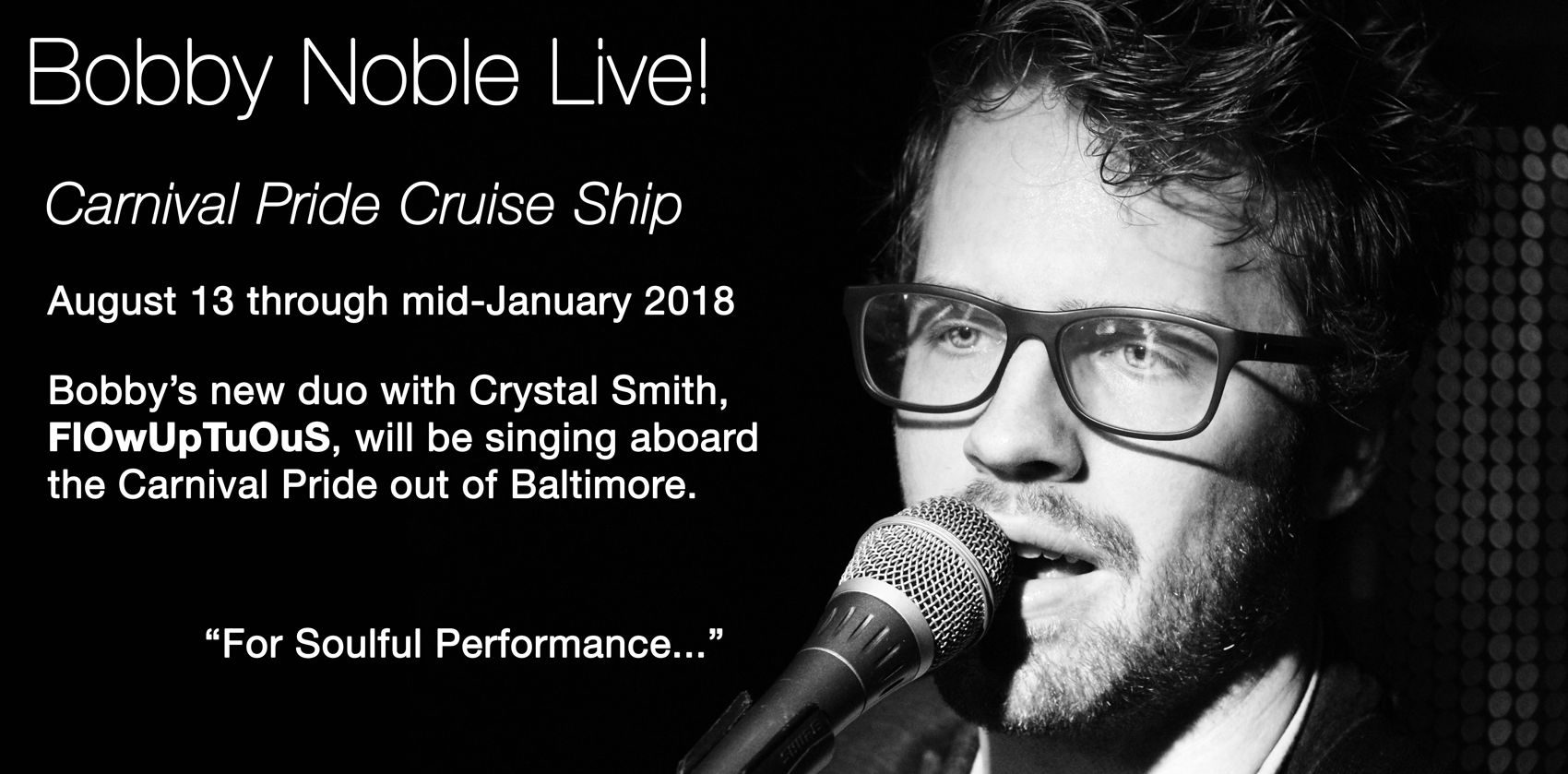 Video
Pump The Brakes
 Bobby's very first music video recounts a compelling story of heartache through soaring chorus lines and beautiful videography. Director Drew Feldman gives stunning visual life to track 3 from Bobby Noble's naked album, featuring Chelsea Fricke.

Bobby For Your Live Music
Bobby's soulful voice and lively style has been delighting audiences for years! Each word sung with an unquenchable passion intertwined with soaring falsetto lines, the perfect combination to bring your club or event to life! Add to that Bobby's playful ease…your patrons will be talking about this show for years to come!
Enjoy Bobby's demo video and see why people love him so much!
Biography

Bobby Noble is a Dallas based singer/songwriter. After studying jazz performance at Western Michigan University he spent three years performing as a guitar/singer soloist aboard cruise ships.
Having recently returned to the Dallas/Fort Worth area, you can find Bobby performing in venues such as Blue Martini, Bakers Street Pub, and Sambuca.
Photos
Some pretty pictures of me…